RIC OSUNA'S FLIP FLOP
Absolutely Nothing has been Altered on this page. All documents in complete original form.
This is from Ric to the producer's of the History Channel documentaries when he was still working with them. Interesting to see who obtained the DeFeo photographs and tried to cover it up from the DeFeo's, isn't it? Also quite interesting to see just how desperate he was to get his hands on the Warrens' photographs.
Subj: PLEASE READ
Date: 5/18/00 9:24:50 AM Pacific Daylight Time
From: amityville@lightspeed.net (Ric Osuna)
To: (SueAnn Fincke) CC: (Daniel Farrands)

Hi guys,

I need to ask a favor about the small DeFeo photo I sent you. If any of you speak to Barry Springer or his wife or Ronnie, please DO NOT mention it or where I got it! The person who gave it to us needs to remain anonymous.

Also, I am unsure of what you want me to do with the crime scene photos. Is a cover letter coming from MPH to send to Bill Weber? Sorry, but as I said earlier, I no longer want to have personal contact with Will Weber. Lastly, is it at all possible you guys have some hi-color copies made of the Warrens' photographs? The ones that I am interested in are all of the color ones and the black and white of Marvin Scott with the news crew on the second floor of the house. Or if you can just overnight them I scan them in and send them back within an hour. I appreciate it and hope everyone is well. Or, maybe Matt can scan them in at 300 DPI and sned me a zip file with them. Thank you.

Ric Osuna

Ric Osuna willingly relinquished all claims of ownership (ie, "rights and obligations") to the Lutzes. The only "copyright holders" in and to this "book proposal" are George and Kathleen Lutz. Full permission to show all documents on this page are given by George and Kathleen Lutz. Here is a lettle from Osuna relinquishing rights.
McPherson & Kalmansohn
Attorneys at Law
[address deleted]
Dear Mark,
I am in receipt of your letter regarding my resignation from the proposed and tentatively titled Amityville Picture Book. I am returning your letter unsigned because there are certain parts that I have circled that need clarification. However, I know you have already said that this is very time consuming situation, so I will make clear my position in this letter so that you may use it in the place of the letter you sent - if you choose. I pulled out of said project because I felt as a Licensee I did not have sufficient control to tell the accurate story of the Amityville experience. After working four months on the project, Mr. Lutz decided to change the scope of the project from what was originally agreed upon. Therefore, in good conscience I resigned and have wished Mr. Farrands and Mr. Lutz the best in their continuance (sic) of this project. To make it simple, what ever materials belong to the Lutzes will remain the Lutzes. I will only make public the materials that are strictly mine. I have never broken the agreement between Mr. Lutz and myself and plan not to. Let this letter serve as my official termination and clarification that the materials that are owned by the Lutzes will not be made available to the public through me. Lastly, I have returned via certified mail all of Mr. Lutz' materials.
Sincerely,
Ric Osuna
Final Termination Agreement Signed by Ric Osuna:
August 28, 2000
Mr. Ric Osuna
(address deleted)
RE: Termination of Ric Osuna from Limited License Agreement ("Amityville Horror Picture Book") ("the Project")
Dear Ric:
This office has been presented with a copy of your August 13, 2000 e-mail in which you expressly "pull out" of any participation in the Project, as well as your August 20, 2000 termination letter. This letter memorializes that you are herewith formally withdrawing from any and all participation from the Project, and thereby terminating any and all of your rights and obligations as expressly set forth in that certain Limited License Agreement, dated March 3, 2000 ("the Agreement"). Your withdrawal and termination, of course, does not affect any of the continued rights and obligations retained by the Parties to the Agreement other than you vis-a-vis each other. Consistent with this withdrawal and termination, would you kindly forward immediately to Mr. Lutz any and all originals and copies of materials in your possession, custody or control which were produced to you (in original or copy form) by Lee or Kathleen Lutz.
Sincerely,
Mark E. Kalmansohn
ACCEPTED AND AGREED.
DATED: 8/30, 2000
(signature of Ric Osuna)

RIC OSUNA
BOOK PROPOSAL BY RIC OSUNA
THE AMITYVILLE HORROR:
Discovering The Truth
by
Ric Osuna
Based on Materials Provided by George and Kathleen Lutz

Non-fiction - 200 pages
On January 14, 1976, George and Kathleen Lutz and their three small children fled their home in the quaint village of Amityville, Long Island, abandoning everything they owned. The story of the family's harrowing twenty-eight day ordeal was chronicled in Jay Anson's 1977 runaway bestseller, "The Amityville Horror." The book became an instant sensation around the world, inspiring a hit motion picture, dozens of books, and (soon to be) nine sequels. Even now, 25 years later, the name "Amityville" remains synonymous with "horror."

Just thirteen months prior to the Lutzes' arrival, the affluent 2½ story home was a scene of a grisly mass murder. On November 13, 1974, Ronald DeFeo Jr. awoke, grabbed his high-powered hunting rifle and then shot and killed all six members of his family while they slept. Although the Lutzes knew about the murders, they bought the Dutch Colonial believing that they could make it a happy home. But when swarms of flies began appearing in the dead of winter … and when constant images of the DeFeo murders filled their dreams … and when disembodied voices ordered the family priest to "GET OUT!" …the Lutzes ultimately fled for their sanity and their lives.

The Amityville Horror: Discovering The Truth is the Lutzes' personal account of the most famous and controversial horror story of the 20th century. Through exclusive interviews, confidential documents, and never-before-published photographs, the Lutzes will break more than two decades of silence to tell their side of the story - the way they meant it to be told. The Amityville Horror: Discovering The Truth answers the most hard-hitting questions about the case: from the inconsistencies and dramatic liberties taken in Jay Anson's book to the "hoax" charges leveled at them by self-proclaimed "vampirologist" Stephen Kaplan in his 1995 book, "The Amityville Horror Conspiracy."

Fabrication or phenomenon, hoax or horror, "The Amityville Horror" has remained an enduring chapter in American lore. More than just another 1970's pop culture retrospective, The Amityville Horror: Discovering The Truth is the result of an intensive two-year examination and investigation into the mysteries surrounding one of the most talked-about haunted house cases of our time. Moreover, The Amityville Horror: Discovering The Truth will provide incontrovertible proof that a terrifying force drove the Lutzes from their dream house at 112 Ocean Avenue.

The Need

Though twenty-five years have passed, the Dutch Colonial home with its quarter moon, eye-like windows remains an icon of terror. With the recent proliferation of "Amityville" web sites on the Internet, a whole new generation has discovered the story of George and Kathy Lutz. Whether they are believers or non-believers, young or old, the public remains captivated by the story.

Many questions have come about as a result of author Jay Anson's use of "literary license" to dramatize the Lutzes' story in his 1977 bestseller "The Amityville Horror." Critics have reasoned over the years that this dramatization alone proves that the Lutzes' story was a fabrication. Not surprisingly, the press has also contributed to the confusion. Years of erroneous reporting and misquoting have made the Lutzes' story seem less-than-credible.

Yet the Lutzes stand behind their account and believe now, the 25th anniversary of the night they abandoned their dream home, is the time to clear up any misconceptions. Both George and Kathy Lutz have agreed to take part in a unique Question and Answer Forum in The Amityville Horror: Discovering The Truth. To that end, fans and curiosity-seekers alike have submitted dozens of questions for the Lutzes through amityvillehorror.com for inclusion in the book.

Here is just a small sampling of the kinds of questions received:

Is it true that the property was once an Indian burial ground?
Is it true that a man named John Ketcham (a suspected witch) was banished from Salem, only to take up residence on the famous property in Amityville?
Why in the early 1900's was the original house at 112 Ocean Avenue moved 100 yards off the property and down the street?
Who built the current house and why?
Does someone live in the house now? If so, have they experienced any unusual phenomena?
What other tragedies have been reported in or around the property?
Who built the famous Red Room and why?
Why did the DeFeos have so many religious icons scattered around the property? Were they trying to ward off evil spirits?
Was Ronald DeFeo Jr. a practitioner of black magic?
Was Ronald DeFeo Jr. possessed when he killed his father, mother, two brothers and two sisters?
During the murders, why didn't any of the DeFeos wake up and flee for their lives after hearing the first gunshots? Why didn't any of the neighbors wake up and phone the police? Why didn't the police ever explain how eight rifle shots could go unheard?
Why were all six members of the DeFeos found in the same position - on their stomachs with their heads ressting in their arms? Wasn't this the position in which the Indians of the region would bury their dead?
Why has the Suffolk County Records Office denied countless "Freedom of Information" requests to view the crime scene materials … materials that may shed new light on the murders … and the alleged haunting.
Had the Lutzes already made a book deal prior to moving in to 112 Ocean Avenue?
What exactly did the Lutz family priest, Father Pecoraro, hear when he was blessing their house?
Was Father Pecoraro a victim of demonic attacks as stated in "The Amityville Horror"?
When did the Lutzes realize they were in danger?
Was Jodi - the demonic "pig" described in Jay Anson's book - just the neighbors' Siamese cat or a ghostly visitor that befriended the Lutzes' five-year-old daughter?
What effects, if any, do George and Kathy think the transcendental meditation they were practicing at the time have on them?
What "sinister force" in the boathouse was calling to George?
Was the presence that allegedly attacked Kathy a product of an over-worked imagination or a failed incubus attack?
Did a tarry black substance fill up the toilets? Did hundreds of flies swarm in the sewing room during the dead of winter? Did George Lutz really report to the police that he was having murderous thoughts?
What exactly did the Lutzes see in the fireplace?
Did a demonic figure chase the Lutzes as they were fleeing?
Did the malevolent force at 112 Ocean Avenue pursue the Lutzes to Kathy's mother's house? If so, how long after the family's departure from Amityville did the attacks continue? Have the attacks finally subsided?
What clarifications do the Lutzes want to address regarding Jay Anson's novel?
What things would they do differently today if they had to do it all over again?
What effect did the publicity have on the Lutzes' marriage? Their relationships with their children?
Do they feel the blessing of the house triggered the supernatural events?
Did they conspire with William Weber, defense attorney for Ronald DeFeo, to create a work of fiction?




Why this book?

The Amityville Horror: Discovering The Truth will provide an in-depth analysis of the history and events at 112 Ocean Avenue. Factual information and interviews from a long list of eyewitnesses will further substantiate the Lutzes' claims. In the Questions and Answers Forum, George and Kathy Lutz will address the most critical questions regarding their experiences. In addition, dozens of documents and photos will be introduced to visually aid the reader. Materials such as:

The results of the Lutzes' lie detector tests conducted by renowned polygraph expert Chris Gugas.
Court transcripts of Father Pecoraro testifying under oath that a disembodied voice did in fact tell him to "Get Out!"
Exerts from Ronald DeFeo Jr.'s November 1999 parole transcripts.
Newspaper and magazine clippings of the original headlines.
Rarely seen crime scene photos from the DeFeo murder case.
Historical documents such as death certificates, archaeology reports, and property deeds.
Bank documents proving that the Lutzes were able to afford the property.
Dozens of UNPUBLISHED photos from the March 6, 1976 scientific investigation inside the house which show:

The Lutzes had not "planned" to flee the house. Investigators found refrigerators stocked; clothes left in the laundry; spoiled food on the kitchen counter; priceless antiques and family heirlooms left behind.
Paranormal activity. Investigators were stunned to see in an infrared photo the ghostly face of a little boy.
The séance. Renowned spiritualists Ed and Lorraine Warren attempted to cast out the unseen entities.

Dated book contracts with Prentice Hall and Jay Anson proving the Lutzes did not have a book deal prior to moving into their home.

In the end, The Amityville Horror: Discovering The Truth will provide further evidence that "The Amityville Horror" was not a staged event but rather one of the most intense paranormal events in modern history. Sometimes truth is stranger than fiction.Other Books on the Subject:

Over the years the famous Dutch Colonial house has inspired a string of books, both fiction and non-fiction. These books had little in common with Jay Anson's "The Amityville Horror" and served only to further confuse the general public as to the authenticity of the Lutzes' story. The Amityville Horror: Discovering The Truth is the first 100% non-fictional account ever written about the Lutzes' experiences and the history of the property itself. Some of the other "non-fiction" books on the subject include:

Holzer, Hans, Murder In Amityville (New York City: Belmont Tower Books, 1979), 288.

An account of author Hans Holzer's two-day investigation of the house with psychic Ethel Meyers. A large portion of the book is filled with transcripts from the DeFeo murder trial and Holzer's interview with Ronald DeFeo Jr. Holzer shows little evidence to support his theory that the spirit of an Indian Chief, supposedly angry over the desecration of his grave, possessed Ronald DeFeo Jr. and forced him to kill his entire family.

Sullivan, Gerard and Aronson, Harvey, High Hopes: The Amityville Murders (New York: Coward, McCann and Geoghegan, 1981), 349.

Gerard Sullivan, the late chief trial attorney of the Suffolk District Attorney's office, describes his year-long investigation and prosecution of Ronald DeFeo Jr. Sullivan, scoffing at the idea of possession, argues that the family fortune was motive enough for DeFeo to kill. However, in his conclusion he too admits to being baffled as to why all six of the DeFeo victims were found face down and why not one of them was awakened by the eight deafening gunshots that ended their lives. This concluding paragraph alone makes it obvious that the DeFeo murders were not an open and shut case.

Kaplan, Stephen and Kaplan, Roxanne, The Amityville Horror Conspiracy (Laceyville: Belfrey Books, 1995), 240.

The late Stephen Kaplan and his wife's vain attempt to prove that the Lutzes were the perpetrators of an elaborate hoax. Numerous references to press clippings that frequently misquote the Lutzes are all that Kaplan has to support his off-kilter theories. Stephen Kaplan, a self-proclaimed parapsychologist, never conducted scientific tests to support his findings, despite his claims to the contrary. Moreover, the fact that Kaplan had an axe of his own to grind is more than apparent from reading this book: he wanted to be the one to tell the story of "The Amityville Horror" to the world.

The Amityville Horror: Discovering The Truth will be the definitive book on the events surrounding "The Amityville Horror." Unlike its competition, all of which are currently out-of-print, The Amityville Horror: Discovering The Truth will be founded upon concrete proof - not unfounded, half-researched theories.Qualifications of the Author:

The earliest memory author Ric Osuna has about "The Amityville Horror" was its red and black cover art: a picture of the house and a demonic tail originating from the "H" in the word "Horror." Scary stuff for a six year old. It was the book's profound effect on his mother and sister that caused him to pick up Jay Anson's novel (dubbed "A True Story") at such an early age. By age nine, he was finally able to comprehend the words he had been reading. However, even at that tender age, he too had doubts about certain events reported in the book.

In 1995, his passion for the case was reinvigorated after reading Stephen Kaplan's "The Amityville Horror Conspiracy." Although Kaplan posed several compelling arguments, Osuna was still not completely sold on the notion that "The Amityville Horror" could be written off as a hoax. To that end, Osuna set out to collect as much information as he could find in an effort to make his own objective analysis of the case before drawing any final conclusions. However, he found it hard to locate many of the resources he was seeking because the case was two decades old.

Finally, in 1998, with the advent of the Internet, Osuna was able to locate many of the resources he needed to successfully begin a thorough review of "The Amityville Horror." Already a professional Web site designer, Osuna decided to put his talents to use by designing his own Amityville Web site. Originally centered around the DeFeo Murders, the part of the case that had fascinated Osuna the most, the web site eventually grew to encompass the complete story. In January 1999, "The Amityville Murders" web site opened its doors.

Today, amityvillehorror.com has attracted over 60,000 visitors and has been labeled the official site of the story. In March of 1999, Daniel Farrands discovered Osuna's site. Farrands, best known as a Hollywood screenwriter, whose produced credits include RAVE and HALLOWEEN 6, is currently writing, producing and directing a special two-part episode about "The Amityville Horror" for the History Channel's "History's Mysteries" series. Alerted to Osuna's vast knowledge on the subject, Farrands invited him to join the team as co-producer of the special.

As co-producer, Osuna was now able to interview the people he had only previously been able to read about. He even ventured to Amityville in the summer of 1999 for a first-hand investigation. There he spent dozens of hours reviewing documents and conducting interviews with both believers and non-believers alike. Finally, it came time to interview George Lutz who, as it turned out, lived only minutes away from him. Osuna felt he was one step closer to the truth.

In November of 1999 (coincidentally the 25th Anniversary of the DeFeo Murders) Osuna finally reached a decision: he concluded that "The Amityville Horror" was indeed based on fact and that the Lutzes did go through twenty-eight days of hell. He now felt the time had come to share his knowledge with so many others and to help clear the Lutzes' names. Osuna formed a partnership with the Lutzes and set out to write The Amityville Horror: Discovering The Truth.










Outline of The Amityville Horror: Discovering The Truth

Introduction by George Lutz
His personal reasons for this book

Part I - The Nightmare Begins

Chapter 1 - Dream Home Turned Nightmare
A short introduction of the Lutz family's terrifying ordeal at 112 Ocean Avenue.
Visuals that will be shown in this section are photos of the property and of the Lutzes viewing it; the letter written by Edith Evans, the realtor who sold the house to the Lutzes; the Lutzes' deed to the property.

Chapter 2 - From Frying Pan into the Fire
After escaping from their hellish home, what was the Lutzes' next course of action?
What troubling discoveries did the Lutzes make about their property?
Did the phenomenon stop?
Was an exorcism ever conducted at the house or on the Lutzes?
How did the Lutzes come to meet William Weber, defense attorney for convicted mass murderer Ronald DeFeo Jr.?
What were Mr. Weber's true motives?
What took place during the Weber/Lutz meetings? Who was present?
Was Weber already planning to do a book on the Lutzes' house?
How did the press become involved?
Why did the Lutzes turn to a publisher to write their story?
What impact did erroneous reporting have on the Lutzes' story?
What became of the house?
What became of the Lutzes' belongings?
What impact did the movie (and the sequel books and films) have on the story's credibility?
Visuals included in this section are newspaper clippings from the period; excerpts of contracts between Mr. Weber and Mr. DeFeo; excerpts from proposed contracts between Weber and the Lutzes; photos of the Lutzes.

Chapter 3 - Debunking the Debunkers
Documented proof that the Lutzes did not have a book contract prior to moving into the house as so many in the Village of Amityville contend.
Why did the publisher make so many changes between the hardcover and paperback versions?
Did the Lutzes have any creative control over their story or the changes?
What lawsuits resulted from the book and movie?
Why did Weber call the Lutz story a hoax?
If Weber believed the story was a hoax, why then did he ask Dr. Hans Holzer, noted parapsychologist, to investigate the possession of Ronald DeFeo Jr.?
Did Fr. Pecoraro testify in Federal Court that he heard voices?
What did Weber say during a deposition hearing of another lawsuit to indicate that the Lutzes were telling the truth?
Who was Stephen Kaplan and how was he affiliated with the case?
What was Kaplan's credentials as a parapsychologist and as a vampirologist?
Did Kaplan ever conduct a scientific investigation inside the house?
What facts, if any, does Kaplan use to support his claim of a hoax?
What were the results of the Lutzes' lie detector tests?
Who were the Cromartys?
Why did they sue the Lutzes and Prentice Hall?
Was it a strange coincidence that David Roskin, Barbara Cromarty's son died mysteriously in the house?
What startling discovery did Donna Yancosik, cousin of the Cromartys make about the house?
Visuals that will be shown in this section are excerpts from depositions; photos of the period; excerpts of contracts between Anson and the Lutzes; newspaper clippings from the period; excerpts of transcripts from taped conversations between the Lutzes and their accusers.

Part II - Before The Lutzes

Chapter 4 - Early Inhabitants of Amityville
What new information discovered supports the Lutzes findings about their property?
What is the Amityville Historical Society's view on this information?
What information did news intern Laura DiDio discover about the property twenty-five years ago?
Could the property be an Indian Burial ground?
What Indians resided in the area?
What were the burial practices of these Indians?
Was it true that a 1920 archeological dig in Amityville unearthed an Indian burial mound only 1000 feet from the property?

Did any other Ocean Avenue residents find bones or strange things buried in their backyard?
Was the restless spirit of a dead Indian Chief responsible for the haunting as parapsychologist Hans Holzer contends?
Is there an Indian Curse on the property?
How many other Indian burial grounds around Amityville have been desecrated?
Who was John Ketcham?
Is there evidence supporting Ketcham was a warlock?
Did John Ketcham take up residence in what is now present day Amityville?
What connection does he have to the property?
Why was another house located on the exact spot moved to another location - just two blocks away?
Who built the current house?
What tragic events befell earlier owners?
Who built the famous "Red Room" and why?
Visuals that will be shown in this section are old maps; old sketches; deeds from the property's past; photos showing an ancient Indian Cemetery in Amityville being used as a dumping ground; photos of the famous Red Room; historical documents from Amityville's historic archives; letters from the Ketcham Genealogy Organization; a medical analysis of a bone discovered on Ocean Avenue; newspaper clippings; proof that the Lutzes did visit the Amityville Historical Society seeking info about their property; a map showing the latitude line of the property to be 40.666.

Chapter 5 - The DeFeos Move In
Who were the DeFeos and what were their hopes for the property at 112 Ocean Avenue?
Coming from Brooklyn, how were the DeFeos received in Amityville?
What troubles did the DeFeos have with the house?
What troubles did the DeFeos have as a family?
Did Ronald DeFeo Jr. make an earlier attempt on his father's life?
Was Mr. Ronald DeFeo Sr. just expressing his faith by surrounding the house with religious statues or was he trying to ward off something sinister?
Why were there several masses held in the house?
Was Ronald Jr. a rebellious youth or was he possessed?
Did Ronald Jr.'s personality change after moving to 112 Ocean Avenue?
What crimes or unruly behavior did Ronald Jr. participate in?
What luxuries did Ronald Sr. bestow upon his family - especially his son?
Why didn't Ronald Sr. heed his son's warning that he'd kill the entire family if he was forced to return to the house?
Visuals that will be shown in this section are family photos; color photos of the interior of the house; the DeFeos' deed to the property.

Chapter 6 - Murdered By One of Their Own
Was Ronald DeFeo Jr. alone in murdering his entire family in cold blood?
Why did all six victims sleep through eight high-powered shots from a .35 Marlin hunting rifle?
Why did none of the neighbors hear the shots?
Was a silencer used?
Were the victims drugged?
Why were the victims found all in the exact same position in their beds?
Did the victims remain in the same position even after being shot?
Why does Ronald DeFeo Jr. have no recollection of his actions?
Does he believe that supernatural forces had influence over him at the time of his murder?
How has Ronald Jr.'s story changed over the last twenty-five years?
Is Ronald Jr. ready for parole in 2001?
Visuals that will be shown in this section are crime scene photos (non-explicit); an official report from Marlin (or the FBI) explaining the decibel range of the murder weapon; diagrams of the crime scene; newspaper clippings and photos of the events as they unfolded; excerpts of transcripts from Ronald DeFeo Jr.'s parole hearing.

Part III - The Psychic Investigation

Chapter 7 - The Warrens are Called In
Who are Ed and Lorraine Warren?
What are their credentials?
How did they become involved with the case and the Lutzes?
What was their first impression of George Lutz?
What were the details of their investigation?
What psychic impressions did Lorraine, a clairvoyant, pick-up about the force inside the house?
What contact did they have with the Catholic Church - particularly Fr. Bill Charboneau, a Catholic parapsychologist?
What strange coincidence took place with regard to Ed's mother's death and the DeFeo murders?
Visuals that will be shown in this section: photos from the Warrens' investigation.

Chapter 8 - Lights, Camera, Seance
What happened during the televised seance at the house on March 6, 1976?
What is the famous "ghostly boy" photo?
What parapsychology organizations were present at the seance?
What were their findings?
What news organizations were present?
Was the environment right for conducting scientific tests?
Did the force in the house make itself known to psychics?
Visuals that will be shown in this section are: photos from the 1976 seance that include the image of a ghostly little boy peering out from a second floor bedroom; a photo of martyred Catholic Padre Pio appearing to aid the demonologists during their work in the house; a photo of what some say is the image of "Jodi the Pig."

Part IV - 28 Days of Hell - 25 Years of Controversy

Chapter 9 - George and Kathy Lutz Speak Out (In Q&A Format)
The Lutzes address the public's specific questions regarding their story and how their ordeal has changed them.

Chapter 10 - The Amityville Horror Today
How "The Amityville Horror" has found a new following on the Internet.
The Web sites that deal with the story.
"Amityville" in movies and books.
The unauthorized Amityville sequels.
What is the opinion of the Village of Amityville on the famous horror that has made their community synonymous with the word horror?
Has the Village of Amityville tried to cover-up the facts surrounding the case?
An excerpt from a US Today article comparing Amityville to Burkettsville - the town featured in the 1999 hit movie "The Blair Witch Project."
Visuals that will be shown in this section: title pages from several Web sites; book covers; movie stills; a letter from the Village of Amityville denying a request for information; photos of the famous village as it appears today.

Epilogue
A final conclusion discussing the public's continued interest with the Amityville legacy.

Bibliography

About the Authors
POSSIBLE BOOK COVERS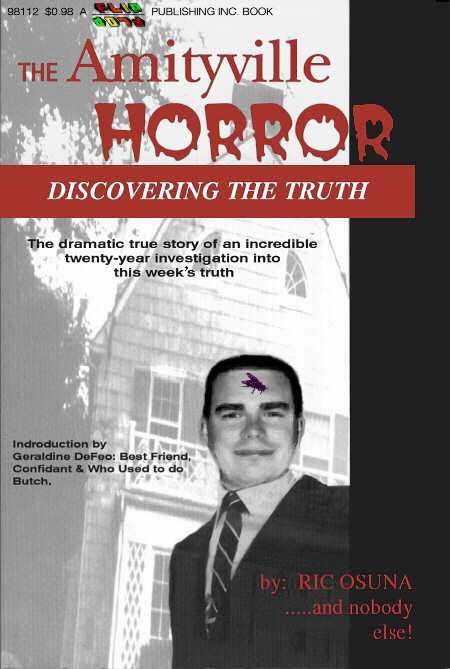 ANOTHER ONE WHERE RIC IS LOOKING MORE LIKE HIS MENTOR AND IDOL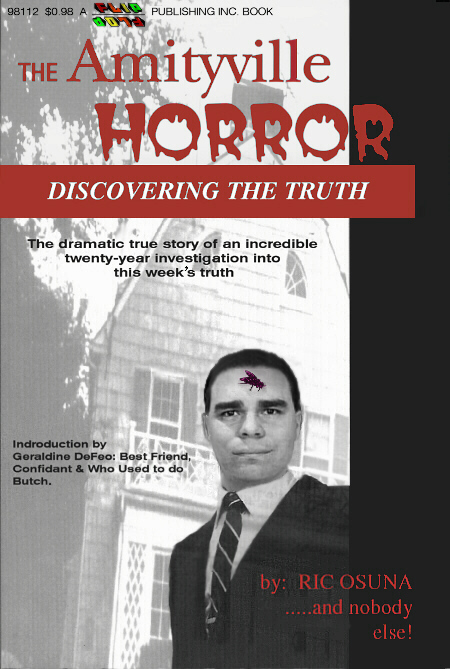 AS A DANCER IN JAPAN